Drones, Robots & 3D Printing
A huge thank you to TCF visitors, presenters, vendors, staff and volunteers for a phenomenal festival! Mark March 21, 2020 in your calendars for TCF2020!
TCF 2019 from Program Grid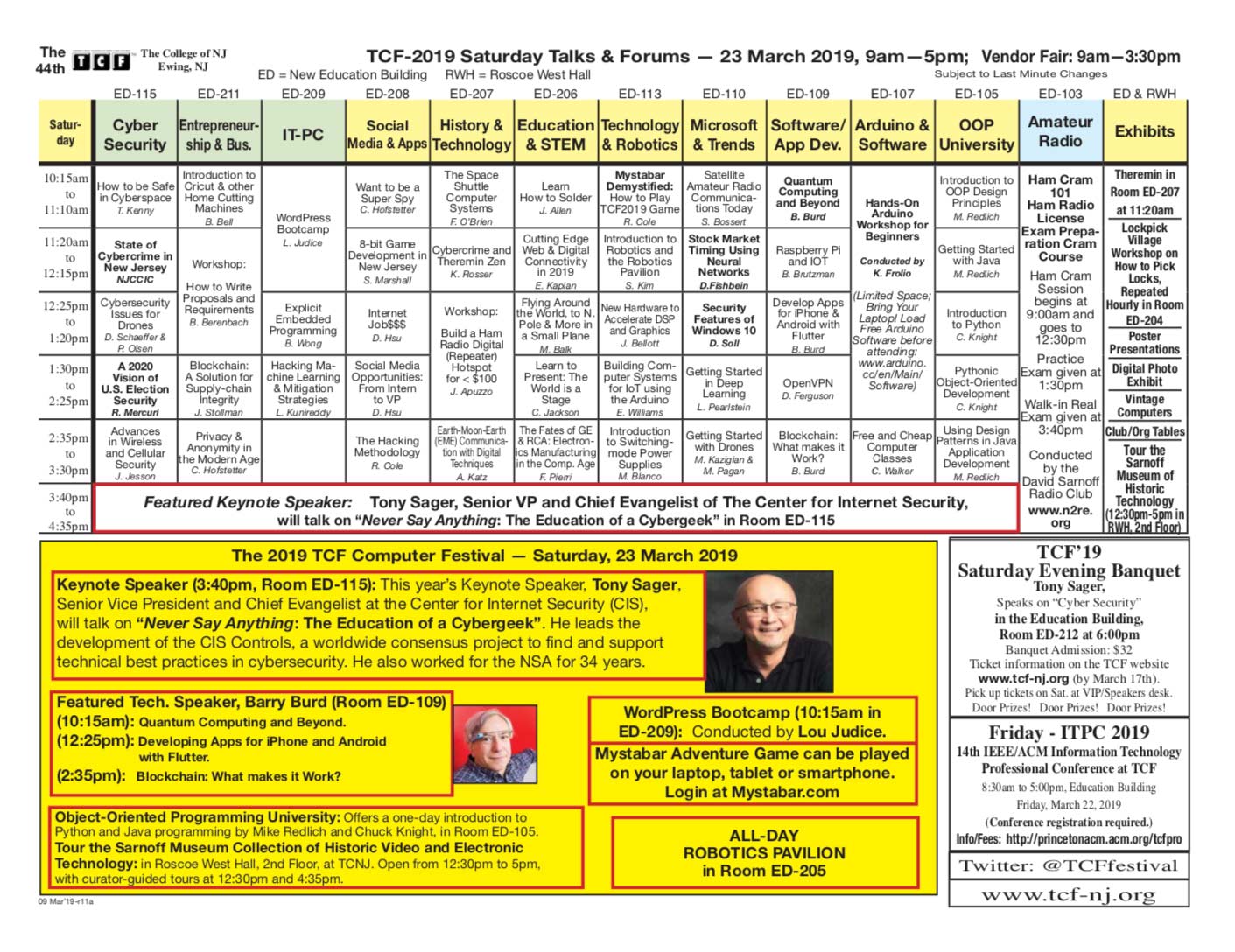 (Click Grid to enlarge or Download Poster / Speaker Grid PDF by clicking here)
Campus Map + Parking  (Click Map to Enlarge or click here to download PDF)
TCF is a one-day festival held at The College of New Jersey
campus in Ewing Township, NJ
covering computing and electronic technology.
TCF is sponsored by the Electrical and Computer
Engineering Department of TCNJ
Highlights include:
→ an array of talks on hot topics of general interest in computing, Internet and technology
→ themed workshops and hands-on educational sessions on subjects from Windows 10 to WordPress 
→ a vendor hall with an assortment of exhibits and tech bargains
→ MYSTABAR: An Interactive Mobile Mystery Game
→ free parking – free wifi
Banquet Information
The TCF banquet is at 6 pm, featuring our Keynote Speaker Tony Sager on "Cyber Security." This year's banquet will be in the Education Building, Room ED-212 and will include a social/networking hour with the speakers from 5 to 6 pm in the area in front of the banquet room.
Banquet tickets are $32 and must be reserved in advance (by March 16th) by emailing to alkatz@tcnj.edu. Please indicate the number of tickets desired. Payment will be at time of ticket pickup at TCF registration area.
Tony Sager,
Senior Vice President and Chief Evangelist, CIS
Tony Sager is a Senior Vice President and Chief Evangelist for CIS (The Center for Internet Security). He leads the development of the CIS Controls, a worldwide consensus project to find and support technical best practices in cybersecurity. Tony also serves as the Director of the SANS Innovation Center, a subsidiary of The SANS Institute.
Tony retired from the National Security Agency (NSA) after 34 years as an Information Assurance professional. He started his career in the Communications Security (COMSEC) Intern Program, and worked as a mathematical cryptographer and a software vulnerability analyst. In 2001, Tony led the release of NSA security guidance to the public. He also expanded the NSA's role in the development of open standards for security.
We are fortunate to have Tony bring his expertise and vision to TCF 2019 on this critical topic, and we are excited to have him join us!
Your participation has made TCF the longest running computer festival in the world.
Vendors
We are now accepting applications for vendor tables. TCF19 is on Saturday, March 23rd and will be again located in TCNJ's Education Building.
Setup will begin at 7:30 am, general admission to the Education Building and selling to public will start at 9 am and end at 3:30 pm.
We Couldn't Do it Without Our Sponsors:

Countdown to TCF2020: Saturday March 21, 2020