Program Grid (Click to Enlarge)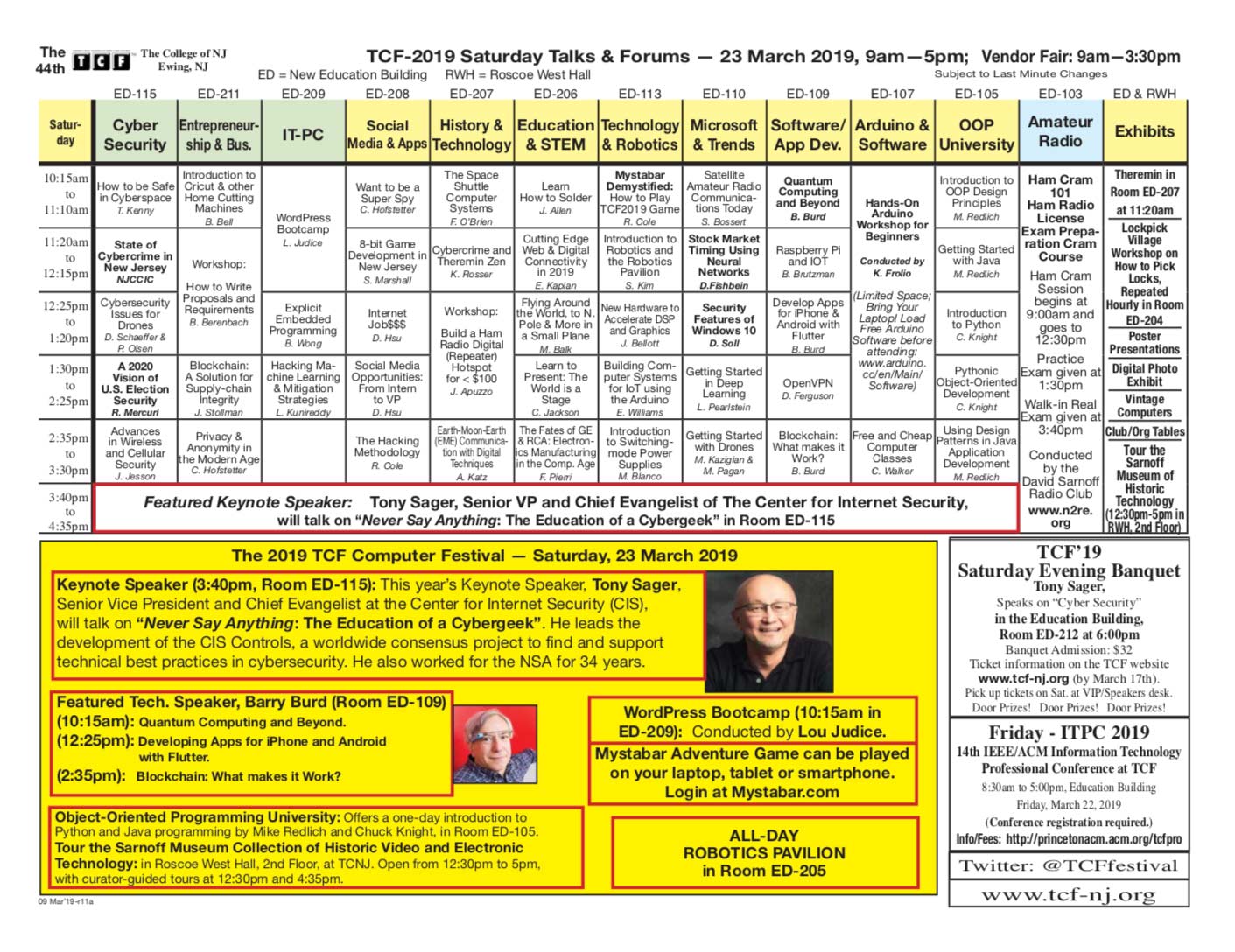 The TCF2019 Theme is Cyber Security.  Keynote by Tony Sager. Tony  is a Senior Vice President and Chief Evangelist for CIS (The Center for Internet Security).  He leads the development of the CIS Controls, a worldwide consensus project to find and support technical best practices in cybersecurity.  Tony also serves as the Director of the SANS Innovation Center, a subsidiary of The SANS Institute.
In addition a featured presentation on "The State of Cyber Crime in New Jersey" will be delivered by the NJ Department of Homeland Security Cyber Team!
Featured tech talks/workshops include:
The State of Cyber Crime in New Jersey by NJ Department of Homeland Security Cyber Team!

Maintaining the Integrity of Elections in a Digital World – Rebecca Mercuri
Quantum Computing – Barry Burd
WordPress Bootcamp – Lou Judice
Cybercrime and Theremin Zen – Kip Rosser
Hands-on Arduino Workshop for Beginners – Katalin Frolio
All Day Robotics Pavilion – Seung-yun Kim
Other notable events include:
Mystabar – a new adventure game that can be played by anyone attending TCF using a smartphone, tablet or laptop.

One day hands-on new and improved Object-Oriented Programming (OOP University) that will include talks on Python and Java.
Tours of the Sarnoff Museum of Technology, located at TCNJ.
A full day of presentations on IT professional topics, a continuation of ITPC from Friday, 22 March 2019, open to all TCF attendees.
Get an Amateur Radio License in a day – Ham Cram & Testing led by the David Sarnoff Radio Club.

Vintage Computer Exhibit (by Vintage Computer Federation – VCF).

Digital Photo Display.
AI, Quadcopter Demonstrations, and Poster Presentations.
Talks on STEM and education (see also information on ISEC '19, to be held on 16 March 2019 at Princeton University).
50+ talks and workshops, special exhibits/demonstrations and more!
Check back for the full program, coming soon!
Food vendor onsite for breakfast/lunch and free wifi.
Banquet Information
The TCF banquet is at 6 pm, featuring our Keynote Speaker Tony Sager on "Cyber Security." This year's banquet will be in the Education Building, Room ED-212 and will include a social/networking hour with the speakers from 5 to 6 pm in the area in front of the banquet room.
Banquet tickets are $32 and must be reserved in advance (by March 16th) by emailing to alkatz@tcnj.edu. Please indicate the number of tickets desired. Payment will be at time of ticket pickup at TCF registration area.